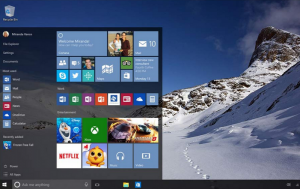 Windows 10 is coming: July 29 2015
Windows 10 is Microsoft's latest operating system and combines the best of Windows 8 and Windows 7 together.
For most of us who use a computer, the re-addition of the Start menu is one of the most important features to bring back to the Windows desktop. It was one thing thousands of users could instantly recognize and know exactly where to go to "Start" off their day. Now Microsoft are combining the Windows start button with Windows apps – with this addition you will be able to view and add lots of helpful tiles and shortcuts to your start menu in order to find most of your day to day stuff within the 1st click of the button.
A new and interesting feature of the new Windows 10 will be for those who multi task. Within Windows 10 you will be able to snap up to four apps in place and see them all open in a single view; meaning that you can have your email, Word, Excel, and internet browser all viewed at the same time to work upon, This saves those of us with one screen having to flick back and forth between applications. Another great feature is that you will be able to create virtual desktops whenever you need more space or to group things into projects.
For those of us who already have Windows 7 or Windows 8 there is the additional great news that you'll be able to upgrade straight to Windows 10 absolutely free (within the 1st year of release) which i think is fantastic as there is no outlay costs to businesses who wish to keep up to date with all of the latest technologies.
Call us today! To book your PC in at Central IT Systems to get your PC / Laptop ready for Windows 10!
| | |
| --- | --- |
| Pros | Cons |
| Start menu functionality and possibilities | For people who love Windows 8 will miss some features |
| Multi snap apps and Universal Apps | Expensive if you can't upgrade for free |
| Brings quicker boot times and security from Windows 8 to a more Windows 7 feel | Browser swiping left and right is great for tablets but not so much for laptops and desktops |