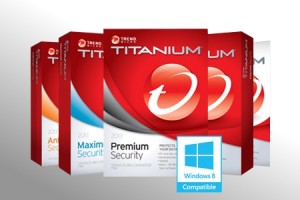 Trend Micro Home Security – Protecting your world form outside threats
Trend Micro Titanium Security Solutions: Your Digital Life — Protected.
We go to great lengths to identify web threats and then make it easy for you to protect yourself and your family from them with Trend Micro Titanium™ Security.
Titanium is easy-to-use, yet comprehensive protection for what you do online every day – emailing, socializing, surfing the web — and it won't pester you with alerts and pop-ups.
Key Benefits:
Block viruses, malware, and dangerous links shared via email and IM
Identify safe and dangerous search results links in Chrome, Internet Explorer, and Firefox
Identify safe and dangerous links on social networking sites like Facebook, Twitter, Google+, LinkedIn, Pinterest, and more
Identify Facebook Privacy settings that may leave your personal data vulnerable
Provide you with clear, easy-to-read screens and reports
Feature set-and-forget security that won't pester you with alerts and pop-ups