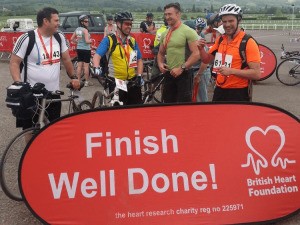 British Heart Foundation 40 Mile Bike Ride – Central IT Systems
Our very own, in action – Central IT Systems managing Director Christian Shuker and all round action hero took part in the British Heart Foundation  40 Mile bike ride (pretty orange top on the right)
He was in good company with two of his loyal customers – Dean Attwell of Oakland International and Stuart Starkey of Starkey Electrical as well as a local Technology Software as a Service Expert Patrick Shuker.
The whole team are working towards their summer goal and this is excellent preparation for the fitness needed to conquer the highest mountain in Africa and also at the same time raise some money for a very important charity.
Kilimanjaro Trip – 17th -27th August 2013
The mighty Kilimanjaro team will include 3 more persons from Oakland International and will raise money for the Oakland Foundation which provides support for under privileged children in the local area
Each member of the team is paying 100% for their own trip and all sponsorship raised will go to the charity.
Pictures – Left to right – Dean Attwell , Patrick Shuker , Stuart Starkey , Christian Shuker