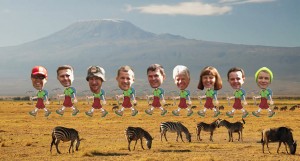 Day 2 of our teams trip. After an ungodly amount of sitting down in a small seat with nothing but Starkey's snoring as companion; the team was glad to have finally touched ground, and took advantage of the ability to stretch tired muscles and admire their surroundings.
The team had taken sweets and toys with them to give out to various children along the way on their journey – even Dean sacrificed his sweets, and gave out plenty to the children of Nairobi (mainly all of the flavors he didn't like).
Also add this that Pat & Cory spent most of the night charging the various devices and gizmos they'd brought along with them, which had already run low thanks to everyone joining in Pat's game of Angry Birds, which apparently Danny and Keith were quite good at.
Finally arriving and settling down to have a good nights rest, the team were confident in their abilities, and were in good high spirits in the face of the challenge that awaits them.