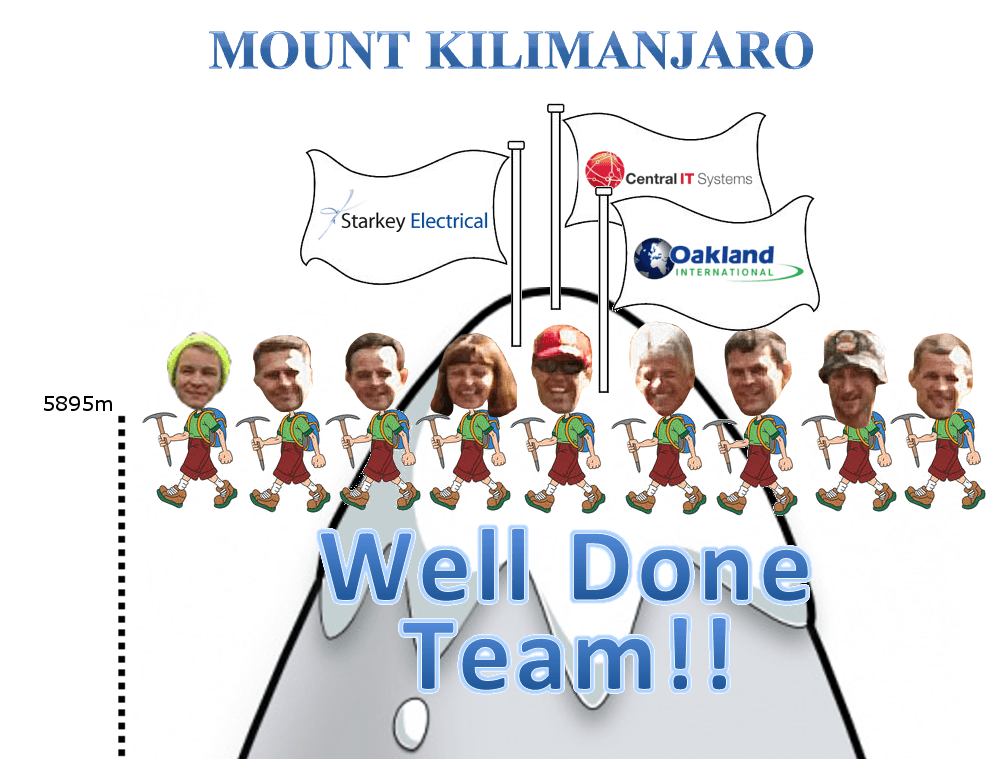 Waking up at midnight, we start our journey heading through Scree slope, zigzagging up the long slope using our head-torches for extra light. At 5259m Chris is still feeling good apart from frozen fingers, most of our water is frozen, and with the low oxygen levels there have been a few stumbles. The view is fantastic as it's a full moon and starry night with our surroundings covered in ice. Whilst snaking up the slope we had passed a few other people struggling up which was a good feeling, although it seems to be getting colder now.
We keep on trudging up, our guides keep saying "polo, polo" which means slowly, slowly, and are keeping up our spirits singing:
"Jambo Jambo Buena,
Habani gani,
Asanti sana,
Kilimanjaro,
Hakuna matata."
Meaning:
"Hello hello Sir,
How are you,
Thank you very much,
Kilimanjaro,
No Worries."
Our team was thinking that perhaps we should release a single with us all singing this, but believe that perhaps the oxygen deprivation was making us think that we could sing better than we could.
All of our team made the official point to say that they had reached the top of Kilimanjaro, with Edith, Dean, Keith, Dan, Cory, Patrick & Chris continuing on to Uhuru Peak at 5895M. Stuart and Ken were unable to continue on to the last bit due to the oxygen deprivation, but what an achievement to them all. Edith and Ken were an inspiration as they were the oldest members of our group, but kept on going and going to the top.
Our view was magnificent and it is hard to describe the beauty of our surroundings; looking over the plains of Africa, and over the craggy peaks of Mawenzi, (will be uploading pictures when back in England).
Everyone is a mess and agree that it's the hardest thing they have ever done, we have all suffered from the altitude with headaches and nausea.
We're making our decent back the way we came to Kibo Hut, looking forward to some rest and hot food. Our total walking time is about 13 hours which was shattering to say the least.
On another great note we've managed to reach our 10k target, and smashed it yesterday with pledges totalling £10,350 at this moment, which is fantastic news for raising money towards the Oakland Foundation.
If you'd still like to pledge, please contact Charity@centralitsystems.com, and we will collect pledges when we are back.