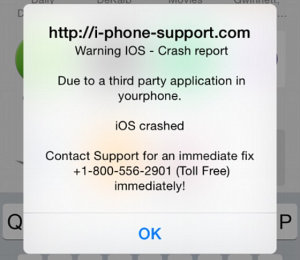 Iphone and Ipod users: beware of the new i-phone-support scam.

Apple users are under threat from an iPhone scam that sees them urged to call a number and pay up to £50 (or $80) for a fix, or all of their details will be stolen.
The issue affects both the iPhone and iPad; affecting users in the UK and US. The scam involves users seeing a "crash report" message which pops up whilst users are on Safari browsers. The message urges users to call an 0800 number. Someone will then ask for your credit card details to make a payment in order to "solve" this issue.
This may seem like an obvious con to a lot of people, but people still do fall for such things; especially older people.
The good news is that its relatively easy to get rid of – all you need to do is place your phone in "airplane mode", which turns off all connections to the internet, then empty your web history and browsing data within Safari and then reopen Safari.